Annual Art Auction

The annual art auction is our major annual fund raising event. A glittering gathering of 400-plus guests, the Auction also raises awareness about family violence. In 1994, we held our first art auction at Town of Mount Royal Hall. We had 12 participating artists and 40 works of art. Today, the auction is a major source of income. The multicultural gathering of 400 plus guests is always popular, both for the cause it supports and for the quality of art that can be obtained at reasonable prices. Our artists are a mix of professionals and amateurs from all walks of life and diverse ethnic origins. 
All works for the Art Auction are chosen by the Art Selection Committee, an independent group of artists, all of whom are trained in fine arts, are completely autonomous in their decision-making.  No committee member, nor any person who is not at arm's length to the committee member, may submit artwork for consideration in the Auction. The Committee's decisions are final.
Thank you for your interest, and your support in our fight against family violence and its consequences.
For further information, please call 514-274-8117.
Sincerely,
Sofia Tseretzoulias,              
Chair, Art Selection committee
An increasingly successul feature of the Annual Art Auction is the silent auction, a fast-moving, fun event featuring furs, fine jewelery, leather and outerwear, restaurant certificates to Montreal's best, decorative arts and sculpture. 
We gratefully accept good quality products, gift certificates and services. We would be happy to pick up products and display information about your business at your convenience. Silent auction donors are featured in the art catalogue and on our web site by year.
If you are interested, please contact us at (514) 274-8117 or  bouclierdathena@bellnet.ca.
Each year, the Shield produces a professional calibre catalogue to commemorate the auction. Businesses, families and friends support us by becoming sponsors (diamond, ruby, platinum, gold and silver). Advertising space is also available.
Our souvenir program cover, invitations and posters have featured the works of many artists who are selected by the Art Selection Committee: 
1997    The late John Papachristou
1998     Egolfi Yantsulis
1999     Valia Hatzithomas
2000     Cathy Alexiou
2001     Bernard Marsy
2002     Dimitri Loukas
2003     Katerina Mertikas, Stephane Parnel
2004     Armand Tatossian,George Tsoukas
2005     Loukas Maniatis, Julia Choremis, Thomas L.C. de Souza
2006     Ian Gordon, Georgia Priniotakis, Paul Soulikias
2007     Bernard Marsy, Yelena Samoukova, John Vazalinskas, Pei Yang
2008     Margot McPherson Balanos, Eva Chiotis, David Rose
2009     Pelin Canez, Georgia Kourleti, Katerina Mertikas, Petras Ibianskas
2010     Alexandre Balitski, Régis Boivin, Micheline Lamarre-Hadjis, Dimitris Loukas, Paul Soulikias
2012     Mariola Nykiel, Norma Lehrer, Norma Akkelian, Irenka Hassoun, Bedros Aslanian, Caroline Brochu
_____________________________________________________
Annual Art Auction2008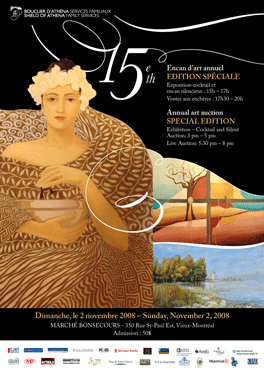 Participating artists
Aristides Balanos, Régis Boivin, Eva Chiotis, Nikitas Dendrinos,  Thomas De Souza, Miguel Esparbe, Andrea Ewanchyna, Bernard Foullon,  Marina Gavanski-Zissis, Marilyn Gordon,  John E. Gouzopoulos, Petras Ibianskas, Fotis Koletis, Georgia Kourleti, Helmut Langeder, Michel Langlois, Dimitris Loukas, Bernard Marsy, Margot McPherson Balanos, Katerina Mertikas, Susie Mouroukas, Evangelia Mouzakiotis, Nick Ordolis, Jimmy Papachristou, Stephane Parnel, Georgia Priniotakis, David Rose, Pouneh S. Sheikh, Yelena Samoukova, Peter D. Smith, Paul Soulikias, Gilbert Strudwick, Margaret Stevens, Teresa Uzarowska, John Vazalinskas, Vassilis Vellis, Pei Yang,  Egolfi Yantsulis, Marek Zoltak.
Sponsors
Platinum: Tom and Gwen Nacos, Honorary Auction Co-chairs;  Apollo Microwaves Ltd.;  Kounadis Perreault Avocats;  Morentzos Restaurants Group: Queue de cheval, Trinity, Le Pois penché; Planète Mobile - Rogers Authorized Dealer; Restaurant Bâton Rouge: Complexe Desjardins, De La Montagne. Gold: Pearl Eliadis, Law Office, Human rights, national institutions and democratic development. President, Shield of Athena; Silver: SCOTIA BANK; Bronze: Banque CIBC Wood Gundy; BMO- Banque de Montréal; Econo-Malls Management Corporation; Landau Sacomoto Inc.;  Madisons New York Grill & Bar; Omnitrans; Paul Kamateros C.A. ; PWL Capital Inc.; Salon funéraire Urgel Bourgie; Sir Winston Churchill Pub Complex; Stationnement Metropolitain Parking Inc. ; Ste Rose Honda; Suzy Shier; TD Bank Financial Group; Westmount Surgical Center. 
THANK YOU SO MUCH!